Healthcare Without Boundaries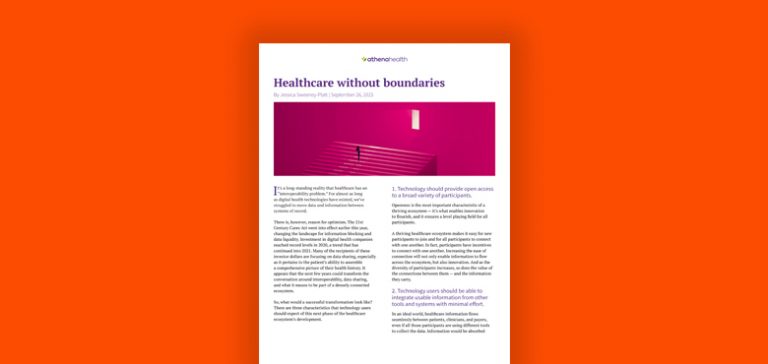 It's a long-standing reality that healthcare has an "interoperability problem." For almost as long as digital health technologies have existed, we've struggled to move data and information between systems of record.
The 21st Century Cures Act changed the landscape for information blocking and data liquidity. A focus on data sharing allows patients to assemble a comprehensive picture of their health history.
There are three characteristics that we should expect of the next phase of the healthcare ecosystem's development.
Read this white paper to discover what technology users can expect for the future of healthcare.
Sponsored by: athenahealth
This page is FastPass tested and is compliant with Microsoft Accessibility features.
Get Exclusive Access to the White Paper
10320-10322
Healthcare Without Boundaries
By downloading this publication, you understand and agree that you are providing your personal information to Anteriad, LLC, and Anteriad may share your personal information with athenahealth, pursuant to Anteriad's Privacy Policy. Furthermore, athenahealth may use your personal information to provide you with marketing materials and contact you regarding its services, pursuant to Privacy Statement.