Oracle's Modern Data Platform Strategy: Autonomous, Integrated, Secure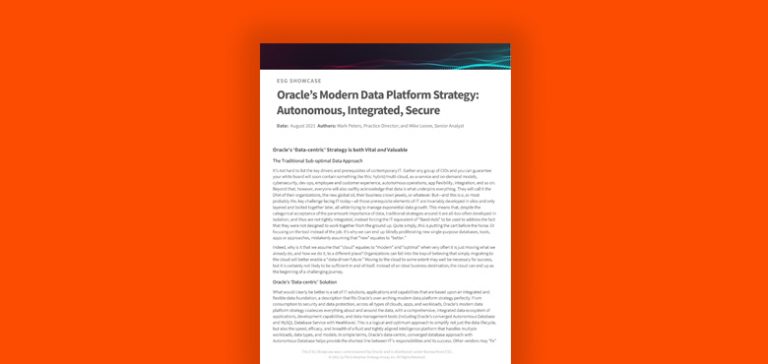 Moving to the cloud may well be necessary for success, but it is certainly not sufficient. What's better is a system that is based upon an integrated and flexible data foundation. And Oracle's modern data platform strategy exactly fits that picture. 
Read this ESG Showcase report that explores how Oracle's "data-centric" converged database approach with Autonomous Database helps simplify not just the data lifecycle, but also enables you to reduce cost, improve security, simplify management, and accelerate deployment. 
Sponsored by: Oracle
This page is FastPass tested and is compliant with Microsoft Accessibility features.
Get Exclusive Access to the Report
12518-12520
Oracle's Modern Data Platform Strategy: Autonomous, Integrated, Secure
By downloading this publication, you understand and agree that you are providing your personal information to Anteriad, LLC, and Anteriad may share your personal information with Oracle, pursuant to Anteriad's Privacy Policy. Furthermore, Oracle may use your personal information to provide you with marketing materials and contact you regarding its services, pursuant to Privacy Statement.